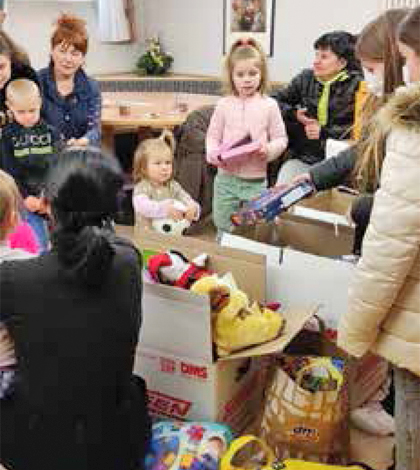 At the beginning of March, the city of Kerpen asked for refugees to be accommodated in the unoccupied education centre in Horrem. Soon after, the first women and children arrived. They had all their possessions in a few plastic bags. Most of them stayed in the house for the first couple of days. Only gradually did they dare to go outside and were touched by the peace and quiet surrounding them. Most of them had already been in a reception centre or in containers for several weeks and were correspondingly happy about the beautiful and familiar accommodation.
Since then, everyday life has been organised together. A team with an interpreter helps with registration, volunteers from the parish accompany the women to the offices, children are registered in schools in the neighbourhood, German courses are offered, and many other things are done together.
Slowly, the picture around our monastery changed.
Sixty women, children, and a few men inhabit and enliven the grounds, and that is also especially evident in our park. Among the women is a landscape gardener. A staff has formed around her to care for the garden. The children play outside and do countless laps on their bikes on site.
In principle, the city of Kerpen takes care of the supply and also assumes the basic costs. However, there are always little things that directly need to be provided. For example, a pregnant woman urgently needs a romper suit and a dummy for her unborn child, a family that found its own small flat wants its crockery and pots, someone else urgently needs new glasses because the old ones have broken, etc. - These necessities are not covered but are essential for the people and for this we need support. The initial horror in the reporting gives way to certain everyday rhetoric. As if people have become accustomed to living with war.
Our women and families would rather return to their homes today than tomorrow, so the demand for an end to the war must not stop. - That is what we are standing up for.